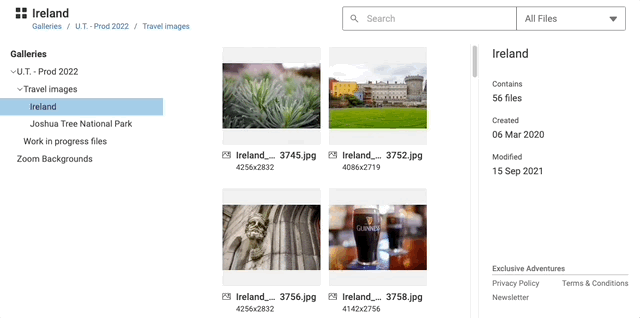 Central to the Portal experience is the ability to search for and download files. If Library Staff have granted you download access to assets available in the Portal -- or if you'd like to download any publicly available assets on an organization's Portal -- you can download a single image at a time or batch download multiple files from your Invited Galleries, Portal Search results or from a shared Workspace.
If you don't have permission to download assets found on the Portal, contact your Admin or Editor, or use the Contact link at the top of the Portal to reach out to the organization directly.
View & Download a Single File
While navigating the Portal, click on a thumbnail to view a single file. The right pane contains file details like file name, copyright, file size, license expiration, usage rights, and file metadata, like keywords or description/caption.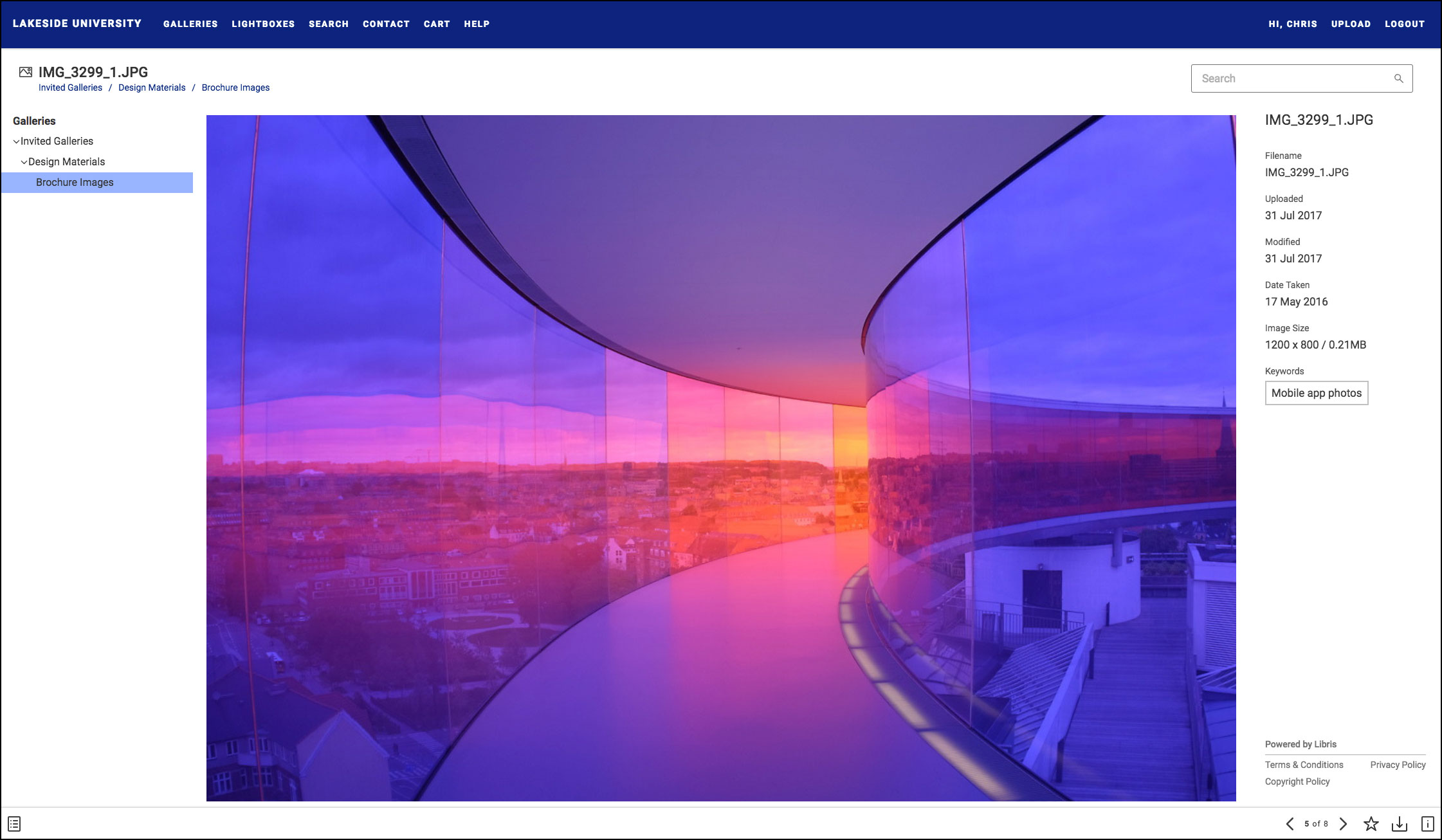 Downloading a Single File:
Click on a file thumbnail to view a single file.

Click the

Download

icon in the bottom right of the Portal footer.

In the window that appears, choose your file format and desired size.

Your download should begin automatically.

Download Multiple Files with Batch Actions
When working with multiple files, using batch actions further streamlines your Portal experience. While navigating through your Invited Galleries in the Portal, Invited Users may download multiple files at once using the Quick Action toolbar at the bottom of the Portal footer.
Download Multiple Files from Invited Galleries:
Click "Select" in the Portal footer.

Use the Select icon on an image thumbnail to select an individual image.




TIP: To download all files in an Invited Gallery, use the Quick Actions toolbar to "Select All" and download.

Once your selections are made, click "Download" in the Quick Actions toolbar.

Select the file format and size needed for download. If multiple file types are present, make a selection for each file type as indicated.

Your ZIP folder will begin downloading automatically.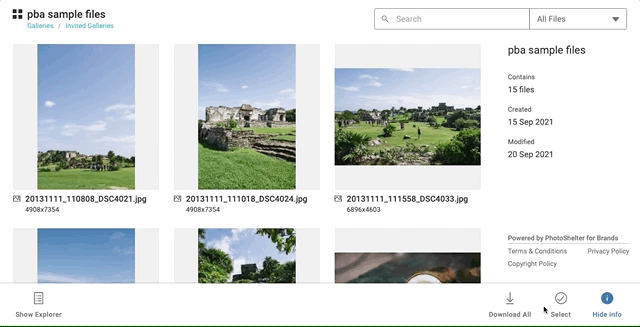 Troubleshooting Download Issues
Access Your Invited Galleries
Publicly available assets on the Portal can be downloaded by any Portal visitor. To view or download files an organization has shared with you, you must log in as an Invited User to access your Invited Galleries. If an organization's Portal has Single Sign-On enabled, we recommend logging in as an SSO User prior to downloading.
File Format Issues
If you've downloaded a file but cannot open it on your computer, it's possible the file was missing a file extension or was opened before the download could complete. In some cases, you may download a file format that can only be opened using a specific software or application unavailable on your computer. If your file is missing a proper file extension or appears corrupt, please contact the organization's Admin or reach out to our Technical Support team at support@photoshelter.com.
Issues with Batch Downloads or ZIP Folders
Larger ZIP folders may take longer to complete. Make sure that your browser is updated to the latest version and that your computer has enough storage to account for the size of the ZIP folder being downloaded. If you're unable to open or uncompress the ZIP folder after downloading is complete, we recommend using an application that can uncompress 64-bit folders.
Expired Images Watermark
If an image is watermarked with "Expired," "Expires soon," or "License Expires/Expired DD Mon YYY," please note that your organization may not have the rights to use the image beyond its current license period.
If you are unsure about usage rights, contact your organization's Admin or use the Contact link at the top of the Portal to reach out to the organization directly.