PhotoShelter's Wrike integration enables you to manage your content more efficiently by cutting out the otherwise manual process of downloading assets from Wrike and uploading them to PhotoShelter. Now, you can import assets from a Folder or Project in Wrike automatically, or use status changes to trigger imports from Tasks to your PhotoShelter Library.
How it Works
There are two solution trigger options available that prompt the integration to import assets from Wrike:
Transfer from Folder/Project

Transfer from Folder/Project on status change
If Transfer from Folder/Project is selected, Wrike assets will import to the Library ONLY when a task has been marked as Complete.
If your solution trigger is to Transfer from Folder/Project on Status change, the status you set up in your solution details must be an exact match to the status used in your Wrike configuration. Statuses will not auto-populate when configuring your solution details in PhotoShelter.
Purchasing
The PhotoShelter for Brands Wrike Integration requires an additional Editor seat to be added to your subscription. This will serve as your designated integrations account and will be what is used to connect the Integration to PhotoShelter without impacting your login limit.
Contact the Customer Success team to add the Wrike Integration to your PhotoShelter for Brands account.
Setup
Once you've purchased the integration, your Customer Success Manager will connect you to Technical Support who can assist in this process. They will require that you provide us with an email address that can be used solely with the integration. This email address cannot be associated with any current user in our system as it must be designated for connecting to the PhotoShelter Integrations. The Integrations Editor Seat will be assigned to this email address provided. Once that's configured, follow these steps to complete the setup process:
Log into

PhotoShelter

using your Integrations Editor Account.

Click

Admin > Integrations

and select

Wrike

from the

Integrations Directory

.

Click

Create new Integration

Add a title and description and click

Create

.

In the popup that appears, log into your Wrike account and authorize the Integration to access your account details.

Once authorized, click

+Create new solution

and add a title and description. You can create as many solutions as needed to transfer from different folders or projects.

Under

Solution Trigger

, select

Transfer from Folder/Project

or

Transfer from Folder/Project on status change

.

Under

Action

, select

Transfer to PhotoShelter gallery

.

Under

Solution details

, enter the name of the Wrike Folder/Project to import from. If your Solution Trigger is set to

Transfer from Folder/Project on status change

, enter the exact status that matches the task in your Wrike configuration. This field will not auto-populate.

Under

PhotoShelter gallery name

, enter the name of the gallery in your Library to import assets to. Click

Create

. The solution will be enabled automatically.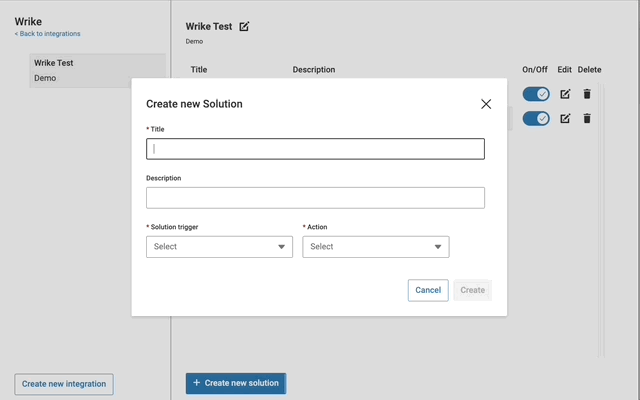 FAQ
Does my Wrike account need to have Task Approvals turned on in order to use this integration?
No. As long as you can create Tasks, upload files to tasks, and mark tasks as Complete, you can use the Wrike Integration to import assets to PhotoShelter.
My Task was marked Complete, but the asset in the Task was marked Needs Changes. Will the asset still upload to PhotoShelter?
Yes. Wrike's API does not differentiate partially-approved assets from fully-approved assets. If your solution details are set to Transfer from Folder/Project on status change and your status is set to Complete, all assets in a Task with the status marked as Complete will upload to PhotoShelter.