Pricing Profiles allow you to determine prices for each type of print, product, download, or license you wish to sell. Instead of individually pricing each image, Pricing Profiles can be applied to multiple images. When you need to change a price or licensing parameter, you can update all the images you have priced with a particular Pricing Profile at once by simply updating the profile itself.
Creating Pricing Profiles
Select Sell > Pricing Profiles.
If this is your first time setting up a Pricing Profile, you will see the following: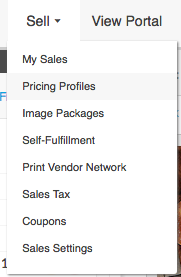 Click the blue Add Profile button. A pop-up box will appear prompting you to choose the type of Pricing Profile you'd like to create.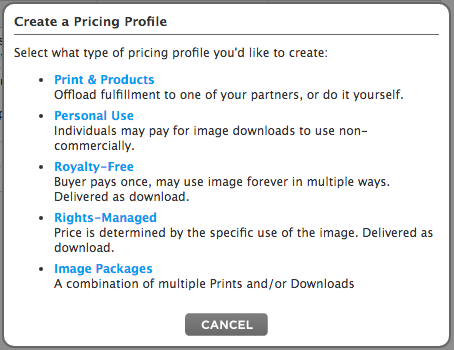 When you've chosen a profile type, you will always be prompted to create a Profile Name (required), internal description, and public description. The questions that follow will depend on the type of Pricing Profile you are working with. Depending on what type of Profile you choose, you will be prompted to answer a particular set of questions.
For specific details on each individual Profile type, check out the following tutorials:
Note: Rights-managed and royalty-free licenses are conflicting license types and cannot be applied to the same image. You can, however, apply a print and electronic license to a rights-managed or royalty-free image.