Metadata, the data that describes your content, helps you and others find specific files. The efficiency with which you or others can find an image increases your Library's market value and can save your staff time and money. A good metadata workflow is crucial to a successful media library.
IPTC is user-editable image metadata. The IPTC Photo Metadata standard is the most widely used standard because of its universal acceptance among photographers, distributors, news organizations, archivists, and developers. Common photo editing software like Adobe Photoshop, Adobe Lightroom, Photo Mechanic, and PhotoShelter for Brands allows you to edit image IPTC metadata. PhotoShelter for Brands allows Admin, Editors, and Taggers to edit image IPTC metadata in batch or on individual images. You can also apply select metadata fields to Video and other file types.
Editing an Individual File's IPTC Metadata
From the Media menu, select Library.
In the left pane, click the Gallery name containing the image or file.
Click the image thumbnail that you want to alter.
In the right pane, click the pen icon next to IPTC Metadata.

Enter/edit the relevant data.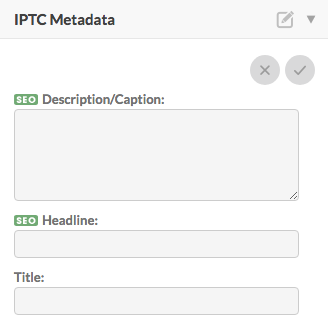 Click the ✓ to save your changes.
You can use the left or right arrow on your keyboard to move to the next image and repeat the process from step 4.
Editing IPTC Metadata on Multiple Images in Batch
While editing multiple images at once, you have the ability to append or overwrite existing IPTC metadata.
From the Media menu, select Library.
In the left pane, click the Gallery name containing the images.
Select multiple images in the center pane.
At the top of the center pane, activate the Actions dropdown, and select Edit IPTC.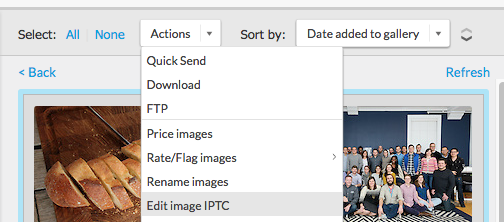 Enter the appropriate metadata.
Click Save.
By default, the metadata you enter in the Edit IPTC information fields will append to existing metadata: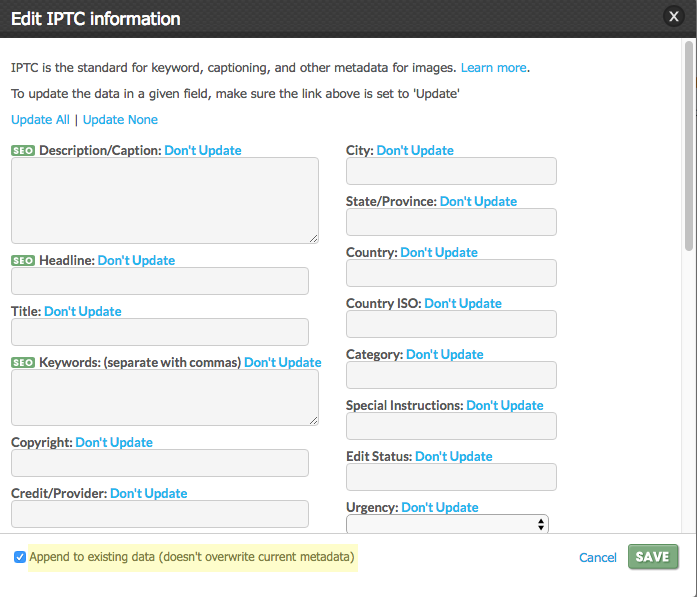 If you would like to overwrite existing metadata and replace it with new metadata, turn off Append to existing data by unchecking the box: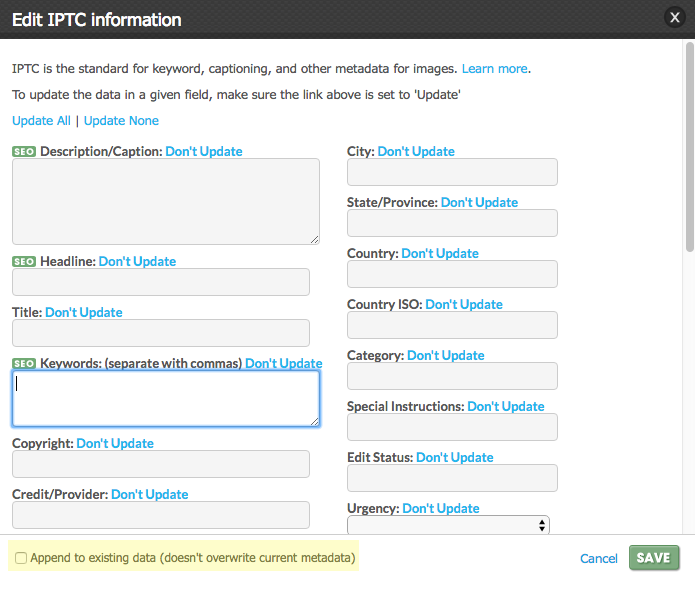 Editing Video and Audio Metadata
Unlike images, other file types do not (yet) have a standardized set of metadata fields. As such, we have created some basic fields to help make other files searchable and discoverable while they are stored in PhotoShelter for Brands, just like your image files. You can apply and edit the following metadata fields for video:
Description/Caption
Title
Keywords
Please note: You cannot edit other file types (or mixed image and other file types) metadata in batch. Non-image file metadata is not embedded in the file when downloaded from PhotoShelter for Brands.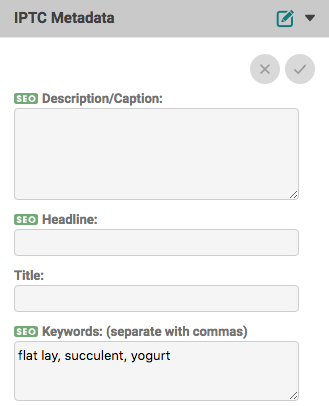 Batch-Edit Video Metadata
When viewing a gallery or file search results in the center pane, select multiple video files
Note: if a selection contains mixed file types, this Batch-Edit Video Metadata workflow is not possible; deselect non-video file types in order to proceed
Click into the Actions menu & select the "Edit video metadata" option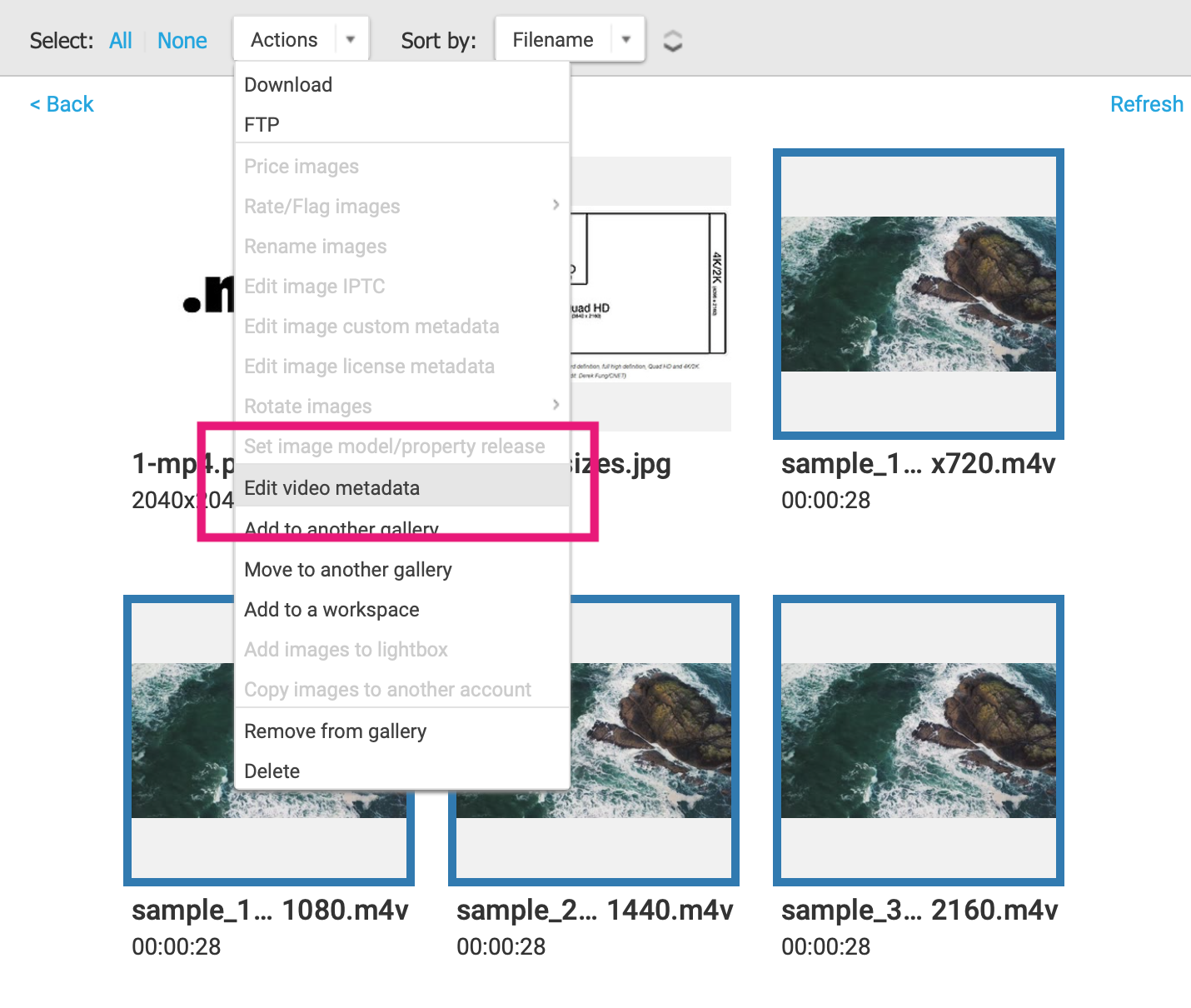 To update Metadata for selected files, first, unlock the field(s) you wish to edit
Unlock all fields or lock all fields with a single click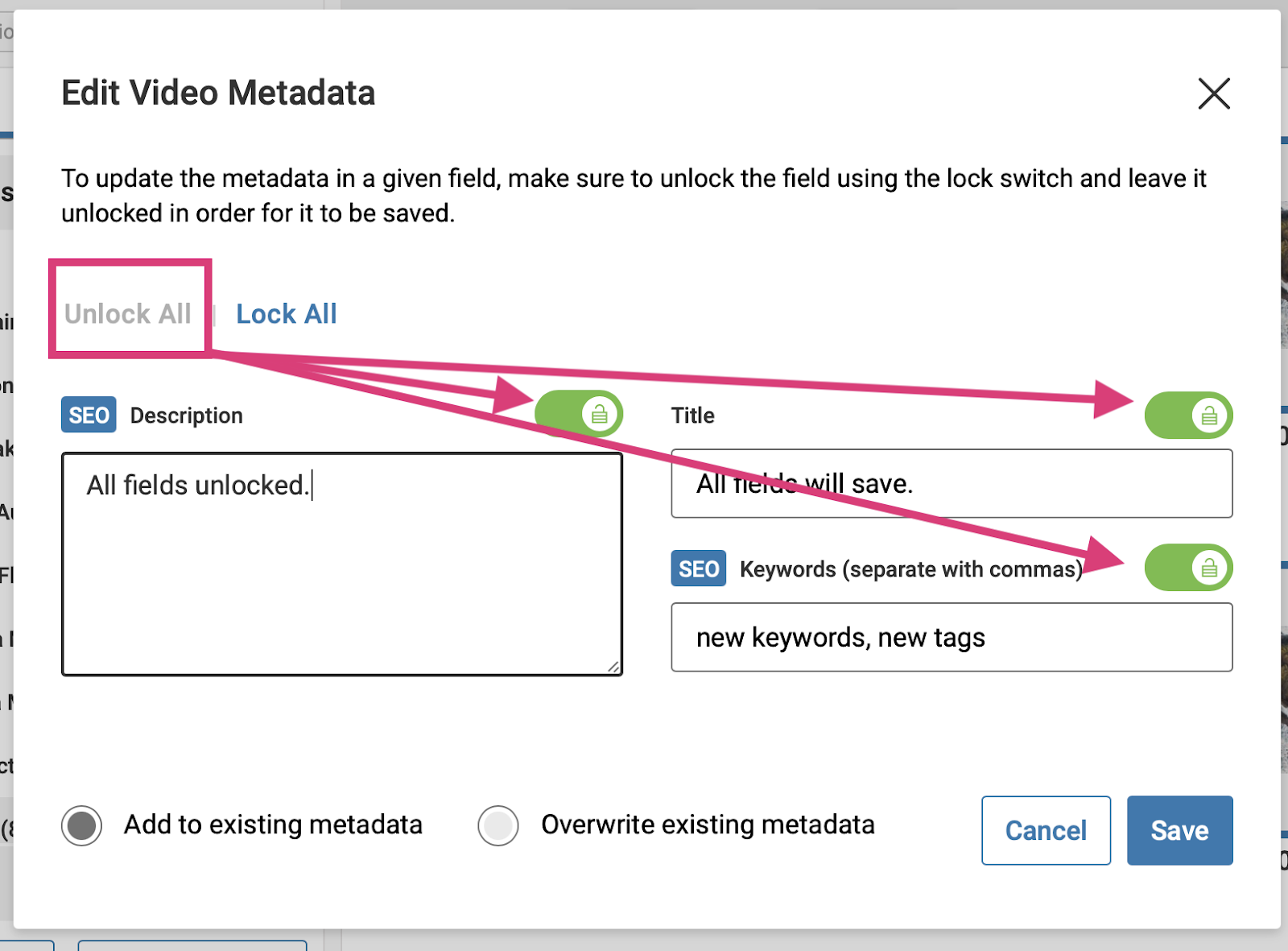 Any text added to a field that is locked before saving will not be added to selected files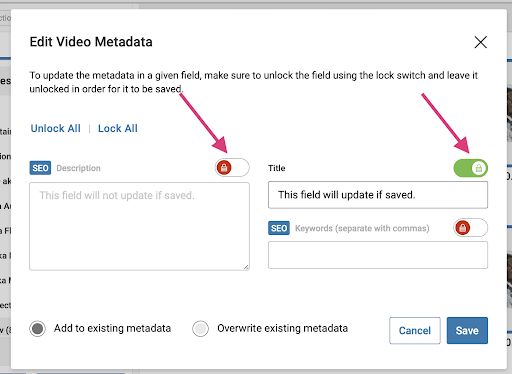 Add to existing video metadata
Any text added to unlocked fields will be appended to the end of the video metadata fields for the selected files.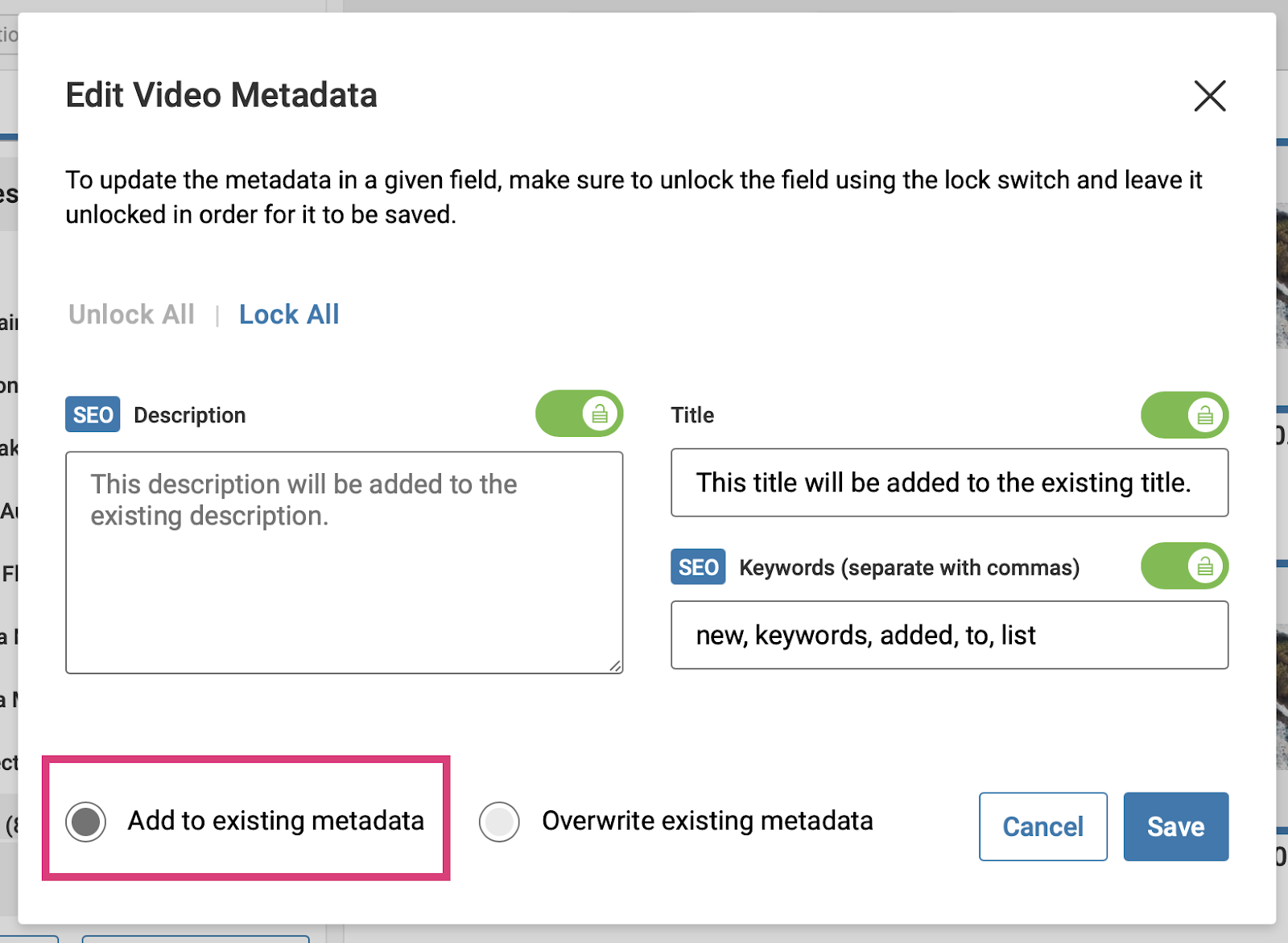 Overwrite existing video metadata
Any text added to unlocked fields will replace the metadata for the selected files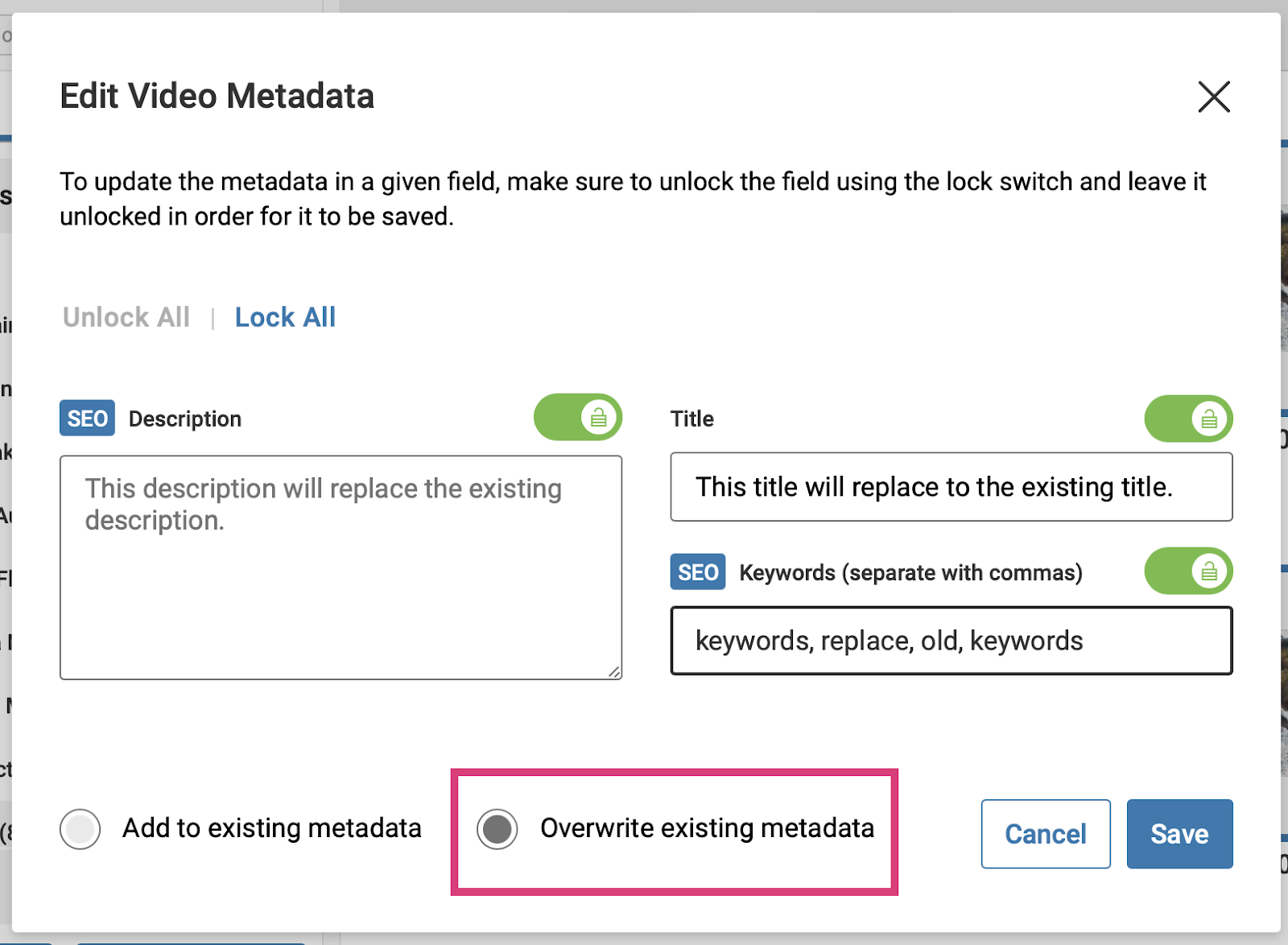 If a field is unlocked and empty, the saving will effectively delete the metadata for the selected field on any selected files
Note: there is no "undo" button
Delete video metadata in batch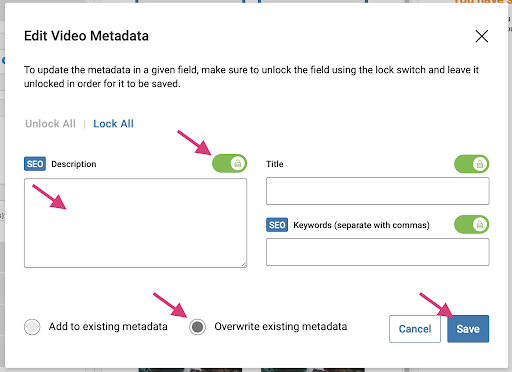 Select video files in the center pane, click into the Actions menu, and select "Edit video metadata"
Unlock fields to be deleted, select "Overwrite existing metadata", and save.
Note: there is no "undo" button
IPTC Metadata Tips
The only IPTC metadata fields that are indexed for file search in PhotoShelter for Brands are:
Description/Caption
Title
Keywords
Persons Shown
City
State
Country
PhotoShelter for Brands also indexes the filename when you search the Library or your Invited Users search the Portal.
If you want to be able to search for a term within a singular IPTC Metadata field (Keywords but not Description/Caption, for example) make sure the words you have typed in the Keywords box are not also typed in the Description/Caption (and vice versa). Similarly, if you have important information that you wish to be searchable in the Copyright or Credit/Provider fields, be sure to also add that information to a searchable field, like Keywords.
Library Staff can use the "Contained In" field to search within a specific Gallery in PhotoShelter for Brands, but cannot search within a specific Collection (this is because files live in Galleries, not Collections). If you want a way to narrow down your results by Collection, you might want to apply the Collection title as a Keyword to the files nested within Galleries within that Collection. That way, a search for "Keyword & Collection_Name" will return matches within a specific Collection.
You may consider adding a Gallery name as a Keyword to your files. That way, if an Invited User is viewing a single image on the portal and sees the clickable Keyword buttons at the bottom of the right pane, clicking the Gallery name Keyword will take them to a new search results page that is essentially a re-creation of the Gallery's contents.
Editing the IPTC Metadata of a file that has a virtual copy will edit the metadata on all copies.
IPTC Description/Caption also functions as Alt Text.
Non-English language is supported.
How Metadata is Displayed on the Portal
The following fields are displayed on the right pane of the single image view of the Portal:
IPTC Headline

If there is no IPTC Headline, the topmost line will default to displaying the IPTC Title; if there is no IPTC Title, then it will default to displaying Filename.

IPTC Description/Caption
IPTC Headline
IPTC Title
Filename
Copyright
Uploaded date
Modified date
Image Size
License Expiration Date (non-IPTC metadata field from the License Alerts workflow)
IPTC Usage Rights
Custom metadata fields (non-IPTC custom metadata fields that you can set up to show on your Portal)
IPTC Keywords
This is how it will appear on the Portal if you have added metadata in every single field:

Other kinds of Metadata
RAW file (DNG)
IPTC metadata edits applied to DNG files will not embed on the original file when downloaded from PhotoShelter for Brands. You can find more information about RAW files in Prepare Your Files for Upload.
EXIF
EXIF is part of the automatically recorded metadata of an image. EXIF data cannot be altered by most image editing software, nor PhotoShelter for Brands.
GPS
Once limited to the military, GPS is commonplace on most smartphones. GPS uses a set of geosynchronous satellites to provide exact longitude and latitude coordinates that can be accurate to within a few feet. Although most smartphones automatically append GPS data, most professional DSLRs require an external GPS unit to annotate this information.
If GPS data is available for a photo, it will be recorded in the EXIF GPS field.
The downside to GPS is that it automatically records the location of the camera, not what the camera is looking at. This is where other IPTC Location fields can provide more accuracy.
How metadata is used outside the Portal
Files within galleries with "Everyone" visibility are publicly searchable by any Portal visitor, and can also be indexed by external search engines, such as Google.
PhotoShelter for Brands embeds some IPTC metadata in screen-resolution images, so that publicly searchable images have more contextual info available. The embedded IPTC fields are:
Author (also known as Creator)
Credit/Provider (also known as Credit Line)
Copyright (also known as Copyright Notice)
Headline
Contact Email
Contact Phone
Contact URL
In 2018, Google Images added more rights-related metadata into a new "Image credits" section for search results. This displays metadata from the IPTC Creator, Credit, and Copyright fields when available.
Read more about how these fields are indexed on the official IPTC site.