Library Staff
Library Staff is a catch-all term for those who have login privileges to the backend (the administrative side) of your media Library. You can grant a person a user role in your Library Staff based on the type of access you wish them to have.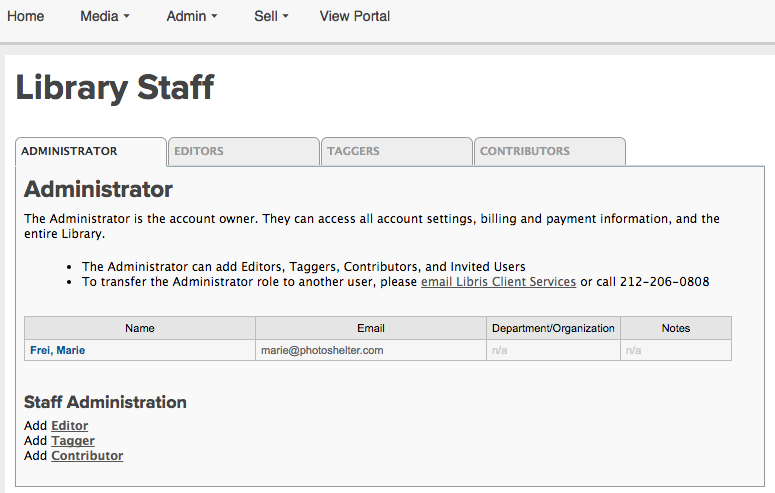 All PhotoShelter for Brands accounts have ready-made Library Staff user roles: Administrator, Editors and Taggers. Every account must have a single Administrator at all times, whereas Editor and Tagger seat configurations are customizable. Roles are mutually exclusive, so, only one email address can hold a single role at one time.
All PhotoShelter for Brands accounts also come with Contributors. Contributors, while assigned using the tab within the Library Staff section of your account, do not have access to the backend of your media library.
Definition of Library Staff User Roles
Administrator
The Administrator is the primary PhotoShelter for Brands Library manager. Every PhotoShelter account comes with only one Administrator seat. This user has access to all account settings, including billing and payment, as well as access to all files in the Library. The Administrator is the only user who can add and remove users to Editors and Taggers seats on the Library Staff page.
If you need to switch the Administrator of your PhotoShelter account, please contact Customer Success and include the email address of the existing and new Administrator.
Editors
An Editor is a trusted user of the system who has access to your entire Library just like the Administrator. Like the Administrator, Editors have full control over all the files in the library, can add Contributors, and can customize the portal website. Editors cannot add other Editors or Taggers, change the Administrator assigned to the account, cannot edit License Alert settings, remove a Contributor, nor change billing and payment settings.
For example, a university visual media team has five team members listed as Editors, whose permission sets allow them full access to their account. These Editors are marketers, graphic designers, and asset managers/photographers.
Taggers
A Tagger is someone who can add metadata to any file in the Library. This is particularly useful for adding IPTC keywords (for example, adding the names of people shown in an image).
Taggers cannot create a collection or gallery; move a collection or gallery or file; delete a collection, gallery, or file; nor price images for sale.
Taggers can perform other Library actions, like upload media and quick send media.
For example, the university visual media team might have an intern or student worker helping to manage the media Library in PhotoShelter for Brands. They don't want the intern to be able to move anything and would like them to focus their attention on editing and adding IPTC Metadata applied to files in their Library.
Contributors
A Contributor is someone who can upload into your PhotoShelter for Brands Library. Though their user role is added in the same way as other Library Staff user roles, they don't have permission to do anything other than to upload, and they cannot access the Administrative/backend side of the Library nor see other content in the Public Portal. Administrators and Editors can add Contributors.
For example, the university also works with a handful of freelance photographers. These users are only permitted to upload into the PhotoShelter for Brands account, with no direct access to manage the digital asset management archive. Though freelance photographers might come and go, the university's visual media team can continue using the same system and know that all their files will remain in one secure location.
Contributors can click here to learn about all of their available upload methods.
Adding a Library Staff member (Admin only)
Log in to your PhotoShelter for Brands account as the Administrator.

Click Admin and select Library Staff.


Now click on the top tabs or the links under Staff Administration to add an Editor, Tagger or Contributor.

Enter the email address of the Library Staff member you wish to add.

Library Staff seats are mutually exclusive, so, only one email address can hold a single Library Staff seat at one time. If the user is already holding a Library Staff seat, you must remove them from their existing seat first before adding them to their new seat. The user's login/password will remain the same.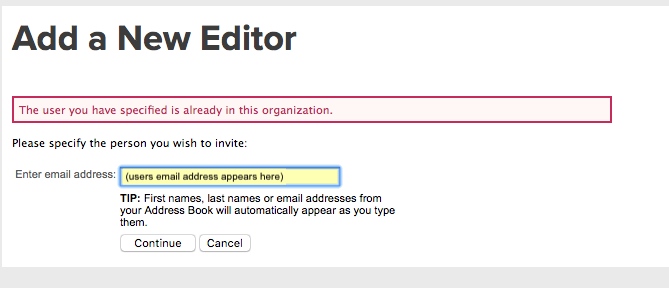 5. PhotoShelter for Brands next checks the entire PhotoShelter database to see whether that person is already listed in our system.
If their email address is new to PhotoShelter, you'll be asked to provide their first name and last name and can then choose whether or not to send them an invitation email.

If their email already exists in PhotoShelter's database, you'll be asked if you would like to send them an invitation email.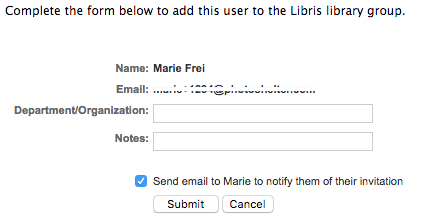 Once the Library Staff member has created their password, they'll be invited to either go to your Library (if they're an Editor or Tagger) or upload files (if they're a Contributor). Once they have activated their account by entering a password for their login, all user roles have immediate upload access.
Tip: Add all photographer contacts current and historic as "Contributors" to ensure you are able to select their name from a Photographer dropdown list if you complete an upload on their behalf using a tool like the Desktop Uploader. Just be sure to un-check the notification box when you add them as a Contributor so that they have no idea they are even on this list and are never prompted to set a password for their login.
Removing a Library Staff member (Admin only)
You might want to remove a Library Staff member because they have left your organization, or because you have reached the limit of Staff Members for your account.
Removing a Library Staff member does not affect any content that the user may have already uploaded or worked on in the past. It prevents that person from logging in to your Library and uploading in the future.
From the Admin, select Library Staff.
Click the appropriate user role tab.
Click [remove] in the right hand column in the row corresponding to that Library Staff member's name.
All PhotoShelter for Brands accounts can be upgraded or downgraded without the other users being disrupted.

Looking for information on how to give someone access to see your files via your organization's portal website? Check out our support center pages on Invited Users under Sharing & Delivering Media.